Water resistant woods: this is what you should know
When looking for the most befitting stain for your outdoor (or indoor) wood project, several factors need to be considered. There are two main stain types according to their bases- oil-based stain & water-based stain; and in specific conditions, one is practically better than the other. Depending on the type of wood, any previous wood treatment & weather exposure, both these types of stains offer different levels of coverage & protection. Here are some properties of both the the stain types to guide your decision:
- The water-based stain is breathable, does not emit harmful fumes or odors, is not flammable, dries quickly, retains its color for a longer period of time, offers a richer hue of color, is extremely resistant to mildew and mold, and is easier to clean requiring only soap and water; while
- the oil-based stain needs more time to dry that allows for a more even finish, penetrates wood deeper, requires less for long-term maintenance, is extremely durable and offers a thicker seal for wood. 
The type of wood also plays a key role in deciding the right stain. For example, when coating a wood with natural resistance to rotting, it is better to use a water-based stain. Examples of this kind of wood are cypress, cedar & redwood. 
Similarly, previous wood treatment is a crucial factor to arrive upon the correct stain. If the wood to be stained bears a previous coating of stain/ paint, care should be taken to ensure a new, even protective layer. It may be difficult to ascertain the previous layer,  but knowing it will undoubtedly help in choosing the apt stain. If the previous layer is oil-based, opting for a water-based stain now is advisable as the latter will adhere better as compared to an oil-based one.   
The kind of weather the wood will be exposed to is also significant in determining the best stain-base. If the wood element is going to have a direct exposure to rain, wind & sunlight, an oil-based stain is the best option. This is because it is more durable than a water-based stain, and will impart a much better protective cover against these weather conditions.
Interior spaces like bathrooms & kitchens are also in constant contact with varying levels of high moisture, especially bathrooms. And so, staining the floors & other wooden surfaces becomes important in these spaces too. In this image, the stained pine floor looks natural even in the monochrome design.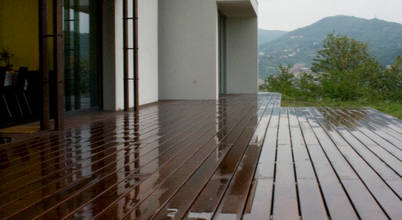 Video of Water resistant woods: this is what you should know
Tags: Water Resistant Woods: This Is What You Should Know
Water Resistant Woods: This Is What You Should Know
Recommended Use: Understanding The Durability Of Your
Food Hygiene What You Should Know Poster
What Is Water Resistant Clothing? (with Pictures
R-dzire Water Resistant Pink Laptop Bag
What You Should Know About Matching Watches
How To Build A Garden Fountain
Best Product To Repair, Seal And Waterproof My CEMENT
Taylor 5863 Splash `n Drop Impact And Water Resistant
JORD WATCH - Thefabzilla
Choose The Best Garden Hose Reel: Everything You Should
R-dzire Purple Water Resistant Backpack
Stuff You Should Know About: February 2016
10 Pairs Work Wear Oversleeves Water Resistant Arm Cover
CROTON WATCHES >> Croton Watches Tips
7 Tips To Make Sure Your Wedding Day Makeup Stays Put
Blue Lizard Protecting Your Skin And Keeping You Safe
How To Best Use Pokemon And Become A Gym Leader And Then
How To Pack The Perfect Beach Bag
What You Need To Know Before Buying New Furniture
The Experts' Guide On Staying Healthy And Germ-free On
What Makes A Device Waterproof Or Water-Resistant?
Reversible Blanket Dog Coat Jacket Reflective Rain
What Legendary Divers Watches Does This List Miss?
8 Designer Watches You Should Know About
Squirrel Proof Bird Feeders
15 Hair, Makeup, Skin, & Nail Beauty Hacks Every Woman
What You Should Know About Trampoline Plastic Parts
Your Guide To Buying A Draper Rechargeable Torch
Life With Beagle: The Great Clothes Debate: Does Your Dog
Galaxy S5: What Does IP67 Mean?